Cutting to the very core of what ails our nation and people, a take-no-prisoner candidate for the 3rd congressional district of Tennessee puts it all on the line. And he's NOT backing down.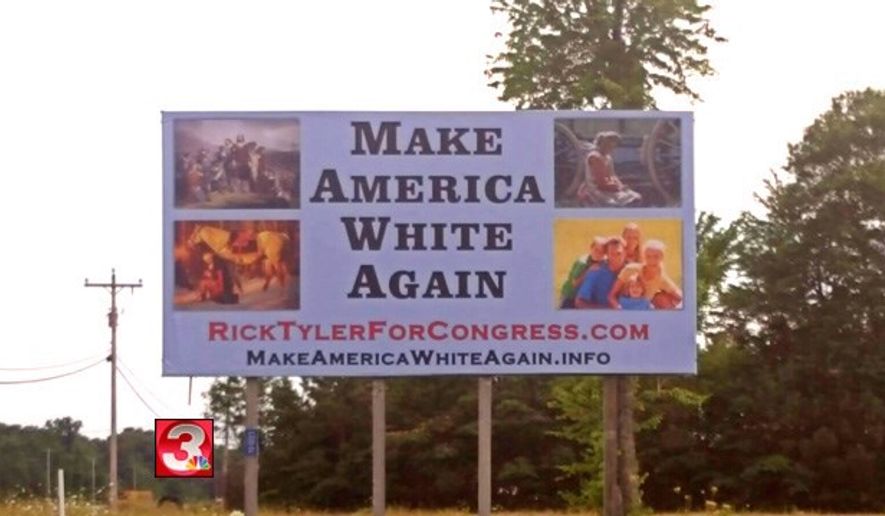 U.S. House candidate Rick Tyler is facing backlash for a campaign billboard in Tennessee telling voters to "Make America White Again."
The sign, located off Highway 411 near Benton, was meant to convey the message that America should go back to a "1960s, 'Ozzie and Harriet,' 'Leave it to Beaver' time when there were no break-ins; no violent crime; no mass immigration," Mr. Tylertold WRCB, a local NBC News affiliate.
"I believe the majority of the people in the county like [the sign]," he said. "I saw people taking pictures beside it right after I posted it."
Mr. Tyler told a local ABC News affiliate that the sign was taken down on Tuesday evening after the story went viral. His restaurant, Whitewater Grille in Ocoee, is also facing calls for a boycott.
Mr. Tyler had posted a second sign on Highway 64 with Dr. Martin Luther King Jr.'s famous "I Have a Dream" quote written over a White House surrounded by Confederate flags, WRCB reported.
Mr. Tyler explained his "billboard strategy" on his campaign website. (HERE)
"The Make America White Again billboard advertisement will cut to the very core and marrow of what plagues us as a nation," the strategy stated, WTVC reported. "With its towering and massive stature, the billboard sign is difficult to ignore and its message comes across as authoritative and influential."
(Local story here, complete with whiners comments)
Mr. Tyler's billboard, inspired by presumptive GOP nominee Donald Trump's "Make America Great Again" slogan, was the first of many planned for the area in the months leading up to the November election. Other billboard ideas posted on his site included, "Fight federal tyranny, Stop the Muslim invasion," and "Mamas, don't let your babies grow up to be miscegenators," according to WTVC.
Mr. Tyler is running as an independent candidate for Tennessee's 3rd Congressional District, a seat currently held by Republican Chuck Fleischmann.
Source….
2016-06-23