Yet another statistic in the ongoing 'multiculturalization' of America. In healthier times however, these two spawns of criminality and parasitism would have been hanged on the spot.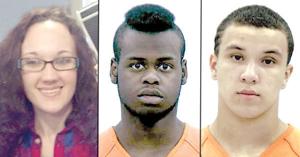 BEDFORD – Two teens fatally shot a Blair County woman and her dog in Woodbury after meeting up to buy pot Thursday, investigators said.
The young men then drove toward Altoona and got high in 21-year-old Stephanie Waters' car while she was dying in the back seat, Bedford County District Attorney Bill Higgins Jr. said.
"To think that a 21-year-old girl – with a full life ahead of her – was senselessly murdered over some weed is just heartbreaking," Higgins said in a Monday press conference at the Bedford County Courthouse.
Deauntay Dontaz Moye, 16, of Woodbury and Ryan Hardwick, 15, of Martinsburg are in jail, charged as adults in what Higgins described as a thrill-killing by "wannabe thugs."
According to state police, Moye admitted to firing the fatal shots.
Rounds from a .22 caliber revolver struck Waters first in the neck and then in the head after Moye and Hardwick entered her car near a Woodbury Pike community building, investigators said.
The pair had arranged to meet her boyfriend there to buy marijuana, Higgins said. But Waters arrived instead.
Moye sat down in her sport-utility-vehicle's front passenger seat. After she showed him the bag of marijuana, he pulled a gun and fired, Higgins said.
Within moments, one of the teens then shot her dog, Duke, three times, he said.
"They then tossed Stephanie's body into the back seat," Higgins said.
According to state police, the teens told investigators Sunday they considered taking Waters to UPMC-Altoona.
But after approximately 20 minutes, it appeared she was dead, so they headed south and went to Moye's Woodbury residence to smoke more "weed" instead.
According to a criminal complaint, Hardwick told police the pair had discussed robbing someone for weeks "and Moye had been talking about wanting to shoot somebody, too."
Waters was initially reported as missing Thursday to Roaring Spring police.
Higgins said area law enforcement officials from Bedford and Blair counties assisted in searching for the woman. Photos posted on Altoona Police Department's Facebook page eventually tipped off a Bedford County resident who spotted a vehicle matching the description of Higgins' vehicle on Saturday on Salemville Road.
On Saturday, police found Waters and her dog dead in the back seat of her Mazda. The vehicle was left in an abandoned property's driveway near New Enterprise, state police Trooper Derek Schrader wrote in the criminal complaint.
Schrader then spoke to a Salemville Road resident who said Hardwick arrived at her residence earlier that day with a revolver inside his backpack. Hardwick allegedly told her he and Moye "killed a red-head girl."
They tried to leave the weapon there but left with it after she told him to take it with him, Schrader wrote.
Higgins said the gun was recovered. The weapon was found inside a bathroom closet at Hardwick's Martinsburg residence. Hardwick told investigators it was his grandfather's gun, Schrader said.
The investigation remains ongoing, although Higgins indicated no other arrests were planned.
Both teens are now lodged in Bedford County Jail without bail, facing charges as adults that include aggravated assault, robbery and a list of other counts.
Moye is charged with homicide, while Hardwick is accused of conspiracy to commit criminal homicide.
State police said both teens were taken into custody Sunday without incident.
Attorneys were not listed for Moye and Hardwick on Monday.
THE ACCUSED:
Deauntay Dontaz Moye, 16, Woodbury
Homicide
Robbery
Aggravated assault
Theft
Receiving stolen property
Carrying firearms without a license
Criminal use of a communications facility
Marijuana possession
Drug paraphernalia possession
Abuse of a corpse (abandoning the body)
Unauthorized automobile use.
Cruelty to animals
Firearm possession by a minor
Ryan Hardwick, 15, Martinsburg
Conspiracy to commit criminal homicide
Robbery
Conspiracy to commit aggravated assault
Theft
Receiving stolen property
Carrying firearms without a license
Criminal use of a communications facility
Marijuana possession
Drug paraphernalia possession
Abuse of a corpse (abandoning the body)
Unauthorized automobile use
Cruelty to animals
Firearm possession by a minor
2015-03-23