Welcome to our website
To take full advantage of all features you need to login or register. Registration is completely free and takes only a few seconds.
Michael Eric Dyson: Blacks Must March on RNC Convention With 'Revolutionary Intentions'
Posted by: Frank Roman on: 06/19/2016 03:47 AM [ Print | 0 comment(s) ]
Blacks receive their marching orders: Go to the RNC convention and kick some White ass.
Author and activist Michael Eric Dyson is calling on blacks to march on the Republican National Convention in Cleveland with "revolutionary intentions" and preparedness for violence.
Mr. Dyson, a professor of sociology at Georgetown University, said it's imperative for black people to rise up against presumptive Republican nominee Donald Trump, as well as his supporters who are "driven by rage" that a black man is president.
"I know that these words can be read as a call to violence unseen at a national political convention since Chicago in 1968. So be it," Mr. Dyson wrote Wednesday in an op-ed for The New Republic. "As Martin Luther King Jr. taught us, it is a risk we must take. We have a positive moral obligation to protest the nomination of this racist demagogue for president.
"It is not simply a matter of voicing disapprobation for Trump; his supporters, too, must be answered. They are driven by rage that a black man today still represents a nation that once held black folk in chains, and which still depends on the law to check their social and political aspirations," he continued. "Barack Obama so spooked the bigoted whites of this country that we are now faced with a racist explicitness that hasn't emerged since the height of the civil rights movement.
Mr. Dyson said they must march on the convention to proclaim Mr. Trump's "moral repugnance and political illegitimacy."
"It is an opportunity, with the whole world watching, to declare Donald Trump the worst of the American political mind and soul," he argued. "The time to sit idly by has passed. To paraphrase Marx, pundits and critics — and even sympathizers with moral principles — interpret the world, but the point is to change it. You can't do that from the comfort of an office cubicle, through a Tweet, or even in a church sanctuary. The deeds of hate being cooked up by Donald Trump, directly or implicitly, must be met with the willingness of good folk to speak up, and most important, to show out. And with that knowledge, some Americans — and I expect many of them to be black — will venture to Cleveland with pure hearts and revolutionary intentions.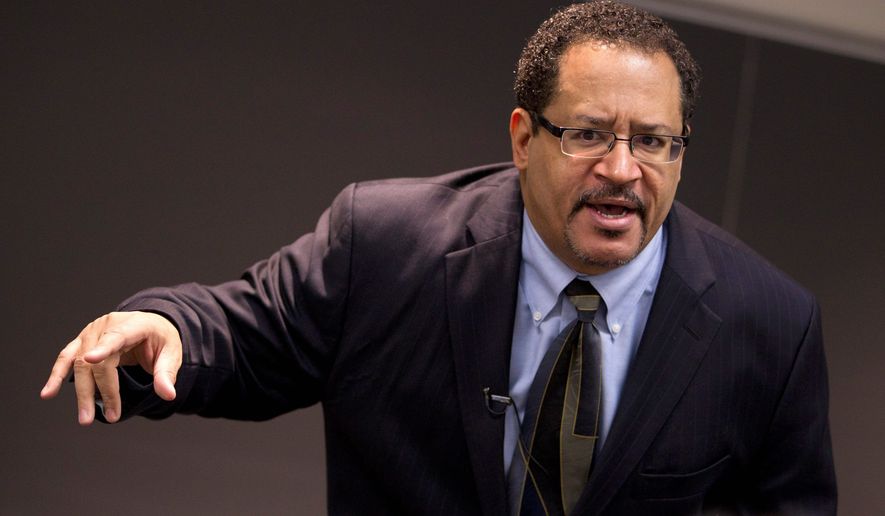 Mike Dyson issues a clarion call for blacks to violently lay siege to the RNC convention because of Donald Trump.
"In calling for confrontation, I am probably bringing down the worst violence against my own people, asking them — us — to stand in the vanguard of challenging bias and hatred. The penalties will be higher for my people than for others. But then, there is nothing new in that," he continued. "I would argue that to resist the sweep of malevolence signified by Trump's prominence is a tragic counterpoint to a vote for Obama in 2008. It is the only way to find the right side of history again. There is no option but to go to Cleveland, to raise our voices, put our bodies to work, and maybe even at risk.
"How bad could it be in Cleveland?" Mr. Dyson asked. "It's hard to say. If the force used against Black Lives Matter protesters in Ferguson and Oakland and Baltimore is any gauge, it may be very bad indeed. But if King proved anything, it's that the threat of violence mustn't dissuade from acting those who would do good. In fact, King used violence, integrating it into his strategy of civil disobedience. Displays of white madness let the nation in on its dirty secret: It was willing to blast black bodies with water hoses, and unleash police dogs on innocent black flesh. King sacrificed black bodies to make white America look plainly at its barbarism. Trump's convention may be the next proving ground for this costly technique."
The ACLU of Ohio filed a federal lawsuit Tuesday against the city of Cleveland, accusing officials of infringing on free speech rights with "arbitrary" restrictions on demonstrations at the Republican National Convention, scheduled for July 18-21.
The ACLU wants the city to reduce the restrictions within the city's convention "event zone," which covers much of Downtown, and to immediately act upon permit applications from groups seeking to protest the convention, Cleveland.com reported.
As it stands, the city has designated Perk Plaza and Willard Park as areas where protesters can apply for permits to set up tables and "public art" installations. The city also said it will build a "speakers platform" with a PA system in Public Square and designate a parade route, Cleveland.com reported.
Source....
Michael Eric Dyson: Blacks Must March on RNC Convention With 'Revolutionary Intentions'
Related Stories