Welcome to our website
To take full advantage of all features you need to login or register. Registration is completely free and takes only a few seconds.
Alert: Zionist Sheldon Adelson Summons Trump for "Private Meeting" on Israel
Posted by: Frank Roman on: 12/23/2015 08:51 AM [ Print | 0 comment(s) ]
Sheldon Adelson. We remember him. He's the same meddling Zionist enforcer who spent millions of dollars undermining Ron Paul's presidential campaign. If you remember, Ron Paul had the audacity to believe that Israel was actually NOT the center of the universe. And with Donald Trump's recent less than fawning comments before a Jewish fundraising banquet and his lukewarm remarks regarding Jerusalem, it was only a matter of time before 'The Don' summoned The Donald to set him straight on a few things.

We shall see.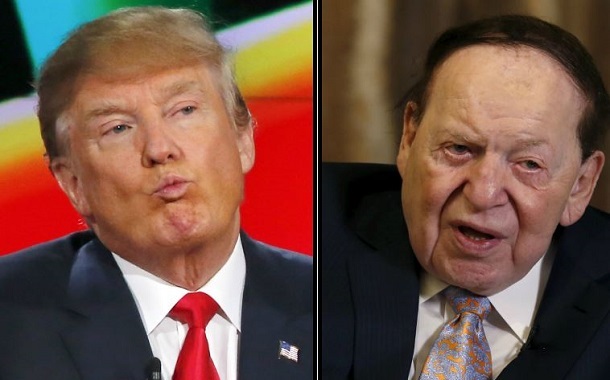 The Donald meets The Don
The casino magnate and Republican Party donor Sheldon Adelson praised Donald Trump's charm following a meeting, in which the two men discussed Israel, among other subjects.
Adelson met Trump, the front-runner for the Republican nomination for the presidential elections, earlier this week in Las Vegas, Reuters reported Friday. Adelson spoke about the meeting in Macau, China, saying he had not decided which candidate to back in the presidential race.
"It was very nice," Adelson, who is Jewish and an outspoken supporter of Israel, told Reuters when asked about the meeting. "He was very charming." Adelson added that the pair had discussed Israel.
The 82-year-old chief executive of Las Vegas Sands Corporation, the world's biggest gambling company by market value, hosted the latest debate among Republican Party presidential candidates at the Venetian Hotel in Las Vegas, where he is based.
"He [Trump] had talked about potentially dividing about Jerusalem and Israel, so I talked about Israel because with our newspaper, my wife being Israeli, we are the few who know more about Israel than people who don't," Adelson said.
Speaking two weeks ago to the Republican Jewish Coalition in Washington, Trump wavered in answering a question about whether he would consider Jerusalem the undivided capital of Israel, drawing boos from the crowd.
Courted by most of the Republican candidates and widely expected to be the party's top donor in the November 2016 presidential election, Adelson said earlier on Friday during a news conference that he may wait until February's primaries to decide who to back. He described the field of Republican candidates as "all very good."
Fourteen candidates are still contending for the GOP presidential nod. The latest Reuters/Ipsos poll showed Trump leading the field with support from 35 percent of likely Republican voters, Ben Carson second with 12 percent and Ted Cruz and former Florida Governor Jeb Bush tied for third with 10 percent.
Source....
Alert: Zionist Sheldon Adelson Summons Trump for "Private Meeting" on Israel